Triangles II
The ultimate Triangles exploration tool.
Our Strategies Disk 2 (Triangles I) is legendary amongst investors and traders. Now, we've redeveloped this set of indicators into the ultimate Triangles exploration tool.
Over the last few years, the markets have hit many people very hard. Lack of a trading plan or tactics can really hurt your wallet. At times like these, it's best to look to the experts and see what they do.
John Murphy uses triangles... (Technical Analysis of the Financial Markets)
Jack Schwager uses triangles... (Schwager of Futures: Technical Analysis)
Curtis Arnold uses triangles... (PPS: Pattern Probability System)
So, if some of the most recognized traders use triangles, then why aren't you using Triangles too?
Our new algorithm means you can explore a whole database of stocks and futures 20 times faster than before, so you can get the jump on those stocks and futures you really want to trade and not miss those critical trades.
---
---
Swing and Pattern method - Triangles II uses both the Swing and Pattern method in identifying qualified triangle patterns from a database of stocks.
Remember how irritating it was to draw the triangle on the chart just to keep it there? That's why we added the ability to place triangles on specific dates, so you can keep a history of the triangles that you want to keep right on the chart.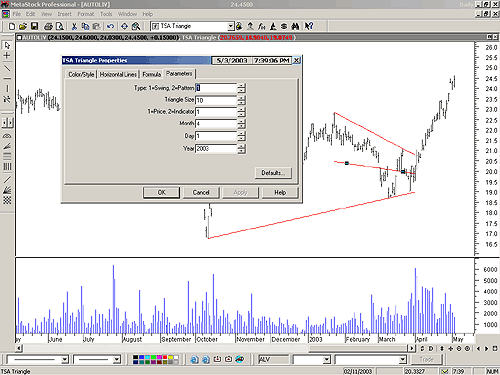 Sometimes, the triangle was just too big to be seen, but not anymore. Since we've increased the triangle range by 10 times, you can find swings up to 99%, or patterns up to 99 bars per identifying point.
And to top it off, did you ever see that triangle on a chart after it broke out? Don't miss another one because we can now explore for triangles on indicators! Now find triangles breakouts on Momentum, Stochastics, the RSI, or your own favorite, and plot them on the chart.
Triangles II is not endorsed nor affiliated with John Murphy, Jack Schwager, or Curtis Arnold.
---
---
Isn't it about time you started using Triangles II. See what it's all about. Download the manual here for free. Readable in Adobe .pdf format.
Manual is in a printable format using the free Adobe Acrobat reader.



Download Acrobat Reader Now. If you ever lose your manual, just print a new one.
---
TSA003 Triangles II...

Now $149.00!
*Downloadable - No shipping charges