For many years, the usefulness of CFTC Commitments of Traders data was nonexistant. Today, Shatterfield Data Services has produced this valuable data in a usable form, and TSAGroup is proud to make it available on a monthly subscription basis to technical analysts trading commodities and forex issues.

Commitments of Traders data is non-price related data that looks into the heart of what Futures traders are doing.
With chartable Commitments of Traders data, you now have an inside look at what is happening in the Futures and ForEx markets.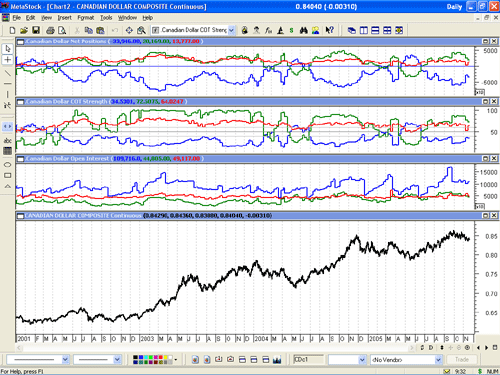 Chart courtesy of MetaStock®
Along with the traditional uses of COT data, you can also apply your own indicators to the data, as well as make your own.
What you can chart and do:
Net Positions
COT Strength
Open Interest for each group
COT Index
Custom Indicators
System Testing
Data is provided for MetaStock and MetaStock Compatible as well as ASCII/CSV (Excel and other program importable), and other formats are coming soon...
---
1-MONTH LIBOR RATE - CME
30-DAY FEDERAL FUNDS - CBT
AUSTRALIAN DOLLAR - CME
BRITISH POUND - CME
CANADIAN DOLLAR - CME
COCOA - NYBOT
COFFEE - NYBOT
COPPER - COMEX
CORN - CBT
COTTON - NYBOT
CRUDE OIL - NYMEX
DOMINION BASIS SWAP - NYMEX
DOW JONES INDUSTRIAL AVERAGE - CBT
DOW JONES INDUSTRIAL AVG. x $5 - CBT
EURO FX - CME
EURO/YEN CROSSRATE - NYBOT
EURODOLLAR - CME
EUROYEN (TIBOR) - CME
FEEDER CATTLE - CME
FROZ CONC ORANGE JUICE - NYBOT
GOLD - COMEX
HEATING OIL - NYMEX
HENRY HUB GAS SWAP - NYMEX
HENRY HUB PENULTIMATE GAS SWAP - NYMEX
INTEREST RATE SWAPS 10YR-3MO - CBT
ISO NEW ENG OFF PK LMP SWAP - NYMEX
ISO NEW ENGLAND LMP SWAP - NYMEX
JAPANESE YEN - CME
LEAN HOGS - CME
LIVE CATTLE - CME
LUMBER - CME
M-3 BASIS SWAP - NYMEX
MALIN BASIS SWAP - NYMEX
MEXICAN PESO - CME
MILK - CME
NASDAQ 100 STOCK INDEX - CME
NASDAQ 100 STOCK INDEX (MINI) - CME
NATURAL GAS - NYMEX
NGPL MID-CON BASIS SWAP - NYMEX
NGPL TEXOK BASIS SWAP - NYMEX
NIKKEI STOCK AVERAGE - CME
NIKKEI STOCK AVERAGE (YEN DENOM) - CME
NYISO ZONE A LBMP SWAP - NYMEX
NYISO ZONE G LBMP SWAP - NYMEX
OATS - CBT
PALLADIUM - NYMEX
PERMIAN BASIS SWAP - NYMEX
PG&E CITYGATE BASIS SWAP - NYMEX
PJM CAL MONTH OFF PK LMP SWAP - NYMEX
PJM ELECTRICITY MONTHLY - NYMEX
PLATINUM - NYMEX
PORK BELLIES (FROZEN) - CME
RICE - CBT
RUSSEL 2000 STOCK INDEX FUTURE - CME
RUSSEL 2000 STOCK INDEX FUTURE (MINI) - CME
S&P 400 MIDCAP STOCK INDEX - CME
S&P 400 MIDCAP STOCK INDEX (MINI) - CME
S&P 500 STOCK INDEX - CME
S&P 500 STOCK INDEX (MINI) - CME
SILVER - COMEX
SOYBEAN MEAL - CBT
SOYBEAN OIL - CBT
SOYBEANS - CBT
SUGAR - NYBOT
SUMAS BASIS SWAP - NYMEX
SWISS FRANC - CME
TCO BASIS SWAP - NYMEX
U.S. DOLLAR INDEX - NYBOT
U.S. TREASURY BONDS - CBT
U.S. TREASURY NOTE 10 YEAR - CBT
U.S. TREASURY NOTE 2 YEAR - CBT
U.S. TREASURY NOTE 5 YEAR - CBT
UNLEADED GASOLINE - NYMEX
VIX FUTURES - CBOE FUTURES EXCHANGE
WAHA BASIS SWAP - NYMEX
WHEAT - CBT
WHEAT - KBT
WHEAT - MGE

---
Non-Professional pricing:
USD $24.95/month
USD $97.00 (Setup includes first month)