The Market & Forex Reporter
The Forex Reporter and Market Reporter for MetaStock are a series of Expert Advisors that summarize market activity and provide a reference for the next days trading. These powerful Expert Advisors process data from various exchanges and dealers to open a window into what's happening in the market.
These reports are designed to be printed out and used to set up your next trading day, and then kept with you as you trade throughout the day. All reports are printer formatted and printer ready.

---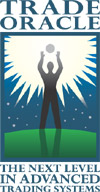 Trade Oracle Advanced trading software
Trade Oracle is our flagship trading systems package. Unlike other products that just try to sell you an ordinary system, we offer you 90 systems in one package. But we go even farther than that...

After a year of development, we think Trade Oracle is a revolutionary breakthrough in advanced trading analysis.

Projected range of profit if the trade is a winner.
Projected range of loss if the trade fails.
Stop-loss
Time in trade

---
MetaStock Software A full range of this world famous charting software
We carry both MetaStock 10 Professional (for the trader using real-time data), and MetaStock 10 EOD (for end-of-day data). Also available are most all of the finest plugins available, including;

---
Strategies Disk 1 for stocks and options traders
This package includes:
Historical data from 1986 to the present!
Option Percent to Double indicator and its Price to Double indicator
Rolling Stocks/Cyclical Stocks exploration and expert advisor
Covered Call exploration
Bottom Fishing/Turnaround Stocks exploration

---
Triangles II - Triangles The solution for searching, finding, and identifying triangle patterns.
Uses pattern recognition and swing movement in a security to find triangle and consolidation patterns. Explores an entire database for all sizes and types.